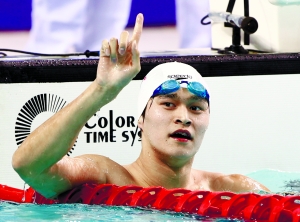 According to a Chinese report just out, at Chinese Nationals Sun Yang rocketed to the top of the 2011 world rankings with his time of 14:42.52 in the 1500 Free.
WATCH THE RACE HERE (Huge thanks to swimfan2 for the link. For more video from Chinese Nationals, click here )
Whilst a little off his best time of 14:35.43 from last year , it still ranks as the 13th fastest performance of all-time and cements his place at the top of the world in the event.
Hoping for a world record this week was probably wishful thinking after Sun Yang stated that he had focused more on speed for this meet, highlighted by his 1:44.99 200 Free and 3:41.48 400 Free efforts. The big question will be what he focuses on in Shanghai. He is a potential medalist in the 200 Free, the marginal favourite in the 400 Free and undisputed favourite in the 1500 Free.
PS. Many in the swimming world have accused China of being too secretive and use this fact to cast aspersions on Chinese swimmers and their success. On that point I should say that in the last hour I have watched more swimming from Chinese Nationals than I did for the entire British Nationals.