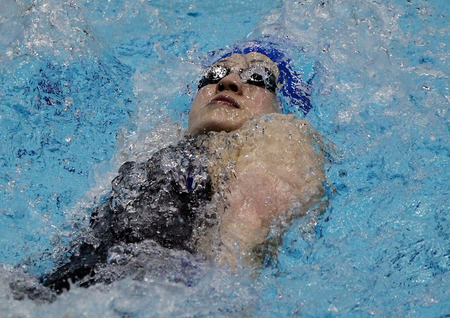 The Japan Open (ジャパンオープン2011(50m))always seems to throw up some fast swims and the opening day was no exception. Here's a look at those who got the meet off with a bang:
• Aya Terakawa takes top billing after the joint second fastest 100m Backstroke of 2011.
Her time of 59.35
sits behind only her own effort of 59.17 at Japanese Nationals. The swim also solidifies Terakawa as one of the most consistent 100 Backstrokers in the world right now. She is the only woman to have swum inside 60 seconds on three occasions this year, a feat she accomplised an incredible seven times last year. She won't go into Shanghai as the favourite, but don't be surprised to see her take home gold.
• Ryosuke Irie is another Japanese Backstroker who will be pushing for medals at Worlds.
Today's effort of 53.11
is just a hundredth of a second off his own 2nd ranked time in the world. Irie's consistency on the major stage has come under scrutiny after an off performance at Pan Pacs, but in the non-Camille Lacourt tier of 100 Backstrokers, on this year's evidence, Irie is at the top of that pile.
• Kosuke Kitajima suffered another domestic defeat in the
100 Breaststroke losing out to Ryo Tateishi 1:00.55 to 1:01.27
. This speaks to two things a) Japan have crazy depth in the men's Breaststroke, and b) there is no reason to panic for Kitajima. We saw the same rope-a-dope routine in 2010 before he swept all before him at last year's Pan Pacs. Fear not Kitajima fans.
• New records are a rare thing in swimming now, so all should be celebrated with extra vigour. Especially when a 15 year old girl swims
a stunning 1:07.10 to break the Japanese Junior record
. That is exactly what Kanako Watanabe did tonight, moving her up to 6th in the world. The time will not worry the likes of Rebecca Soni, Jessica Hardy and Leisel Jones too much this year, but with another year of improvement ahead of her before London, we could be seeing a new Breaststroke star emerging. The first part of Japan's medley relay is beginning to look menacing with Terakawa on Back and the emerging Watanabe on Breast.
• Think Japan is just a nation with a few stars but little else? Think again. Japan is emerging as one of the deepest pools of talent in world swimming right now. The men's 200 Free showed that depth tonight with the
top four guys all swimming sub-1:50
. A lack of a superstar 200 Freestyler in the mould of Phelps, Lochte, Park, Sun Yang etc. is just about the only thing holding back the Japanese 4 x 200 from challenging for gold in that event.
• Another 200 Fly race,
another world class time from Takeshi Matsuda (1:55.76)
. No-one expects Phelps to lose this race in Shanghai (or London), but if he were to lose out to anyone, my money would be on Matsuda. Also noteworthy, the top seven guys all broke 2:00.
Full Results