The third annual Speed Endurance Top 50 Swimmers of the Year list is upon us. There is no set-in-stone criteria, but priority is given to achievements in Barcelona at the World Championships. World records and textile best times also carry a lot of weight. Other outstanding achievements away from Barcelona were acknowledged, but it took an extraordinary feat to better a World Championship medal. Also worth noting, as this is a list of the Top 50 individuals, relay medals did not come into play, however race-changing relay contributions were valued highly.
Top 50 Swimmers of 2013 - 50 to 41
30. Danila Izotov - 2013 Highlight: Some might argue it was his bronze medal winning 200 free individual effort, but Izotov makes the list this high for leading off the Russian 4x200 free team in 1:45.14, faster than his 200 free final time and ahead of both Yannick Agnel and Conor Dwyer, the two men who beat him in the individual final.
29. Yannick Agnel - 2013 Highlight: Last year's No.1 slips down the list despite his victory in the 200 freestyle in Barcelona. His win in 1:44.20 was emphatic, but he wasn't close to his best in two other relay appearances at Worlds. French victory overshadowed the fact that Agnel could only muster a 48.76 lead-off which put the French nearly a second down on the rest of the field. Watch out for Les Bleus when Agnel is back to his electrifying best.
28. Fu Yuanhui - 2013 Highlight: The Chinese backstroke emerging star makes the list for her new textile best time of 27.22 in the 50 backstroke. She took silver in Barcelona in 27.39, as well as 5th in the 100 backstroke. Look for the 17 year old to push on in 2014 at the Asian Games.
27. Lauren Boyle - 2013 Highlight: After winning gold at World SC in 2012, the Kiwi took the next step in a long course pool with a trio of bronze medals in Barcelona. By taking third in the 400, 800 and 1500 freestyles she became the first New Zealand swimmer to win three world medals since Danyon Loader in 1994. Not a bad achievement given that the entire country has only won 8 world medals in total.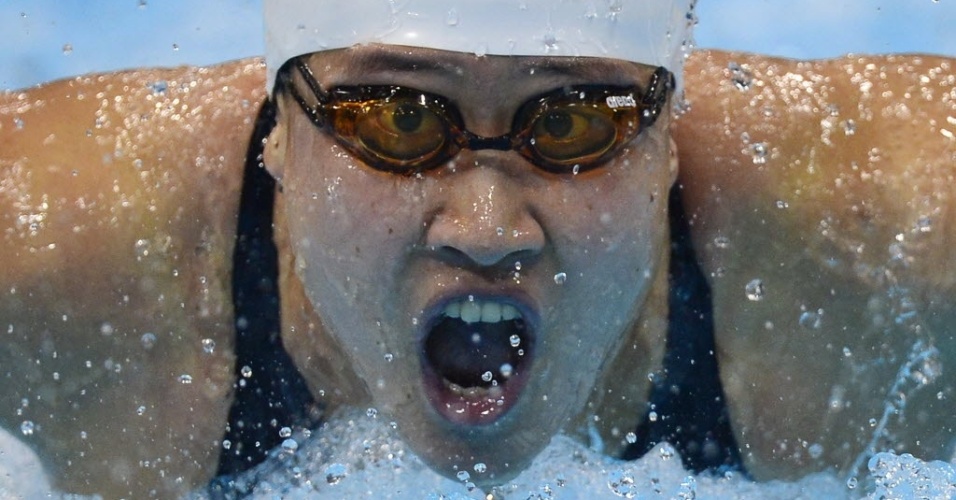 26. Liu Zige - 2013 Highlight: The 2008 Olympic champion won her first world title in the 200 butterfly with a time of 2:04.59. She led at 100m before being caught by Mireia Belmonte at 150m, but unlike previous years where her pacing let her down, she found enough down the final length to get past the Spaniard.
25. James Magnussen - 2013 Highlight: Magnussen put a tumultuous 2012 behind him by retaining his 100m freestyle world title in 47.71. He had been 47.53 earlier in the year which topped the year-end rankings. His relay performances in Barcelona were solid, but not spectacular and Australia will need more from him if they want to get back on the top of the podium.
24. Daiya Seto - 2013 Highlight: Winning the 400 IM title in Barcelona with his 4:08.69 effort. In the process he beat the pre-race favourite, Kosuke Hagino who blew up on the final 50m. Seto is now the reigning world champion both short course and long course at 19 years of age.
23. Jeanette Ottesen - 2013 Highlight: The second textile best time setter ranked in the twenties, this time in the 50 butterfly. The Dane's 25.24 victory at Worlds was just 0.17 shy of the 2009 world record and gave her a victory margin of 0.18 seconds, the most amongst the 50s at Barcelona. She also finished fourth in the 100 fly and 5th in the 50 free.
22. Alicia Coutts - 2013 Highlight: Coutts won two individual silvers in the 100 fly and 200 IM as well as three further relay silvers in Barcelona..She ranked in the world top 20 in 6 events and proved once again how effective she can be during the major championships. 4 years ago she had her international breakthrough at Commonwealths and Pan Pacs and will be a major force at both again this year.
21. Kosuke Hagino - 2013 Highlight: Showing great versatility to win silvers in both the 200 IM and 400 free at Worlds. Although he wasn't able to finish the job after leading at 350m of the 400 IM, he did finish the year at the top of the world ranks with 4:07.61. He ranked in the world top 10 in 6 events, the 100, 200 back, 200, 400 free and 200, 400 IM making the final in all events at Barcelona. The rising star of Japanese swimming is primed for a big 2014.