As another year of great swimming comes to a close, here is a rundown of the Top 50 Swimmers of 2011. There is no set criteria, but clearly the World Championships in Shanghai carried a big weight in the decision making process. That being said, outstanding achievements away from Shanghai were still acknowledged (looking at you number 44).
Thanks for reading Speed Endurance this year. Next year should be something a bit special!
Today we start with numbers 51 through to 42.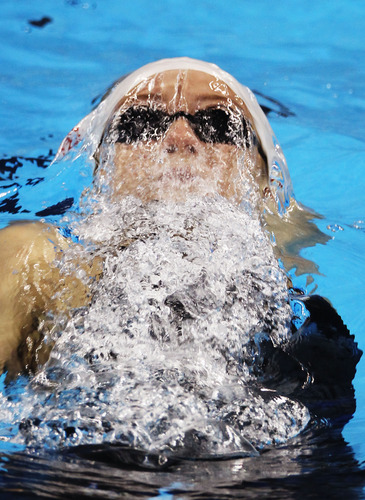 51. Miriea Belmonte Garcia
– 2011 Highlight – Getting the better of Lotte Friis over 800m Free in December, where her time of 8:22.78 moved her to 3rd in the world rankings.
The breakthrough in the 800 puts her at the head of the chase for Friis and Rebecca Adlington. Belmonte also continued her dominance of the short course pool with European titles in the 400m Free, 200m Fly, 200m IM and 400m IM. Had an outstanding year, marred only by her failure to medal in Shanghai.
50. Brent Hayden – 2011 Highlight – Winning silver behind James Magnussen in the 100m Free in Shanghai (47.95).
It is hard to know what to make of Hayden's year, having pre-qualified for Worlds he showed his true hand only once during 2011. He is the only man to have been sub-48 seconds in both 2010 and 2011, and that consistency makes him a dangerous player in an unpredictable race like the 100m Free.
49. Yannick Agnel
– 2011 Highlight – His 3:43.85 in the 400m Free at French Nationals.
The swim back in March showed what might have been in Shanghai had he not fallen ill during a vital part of his training cycle. Despite the illness the young Frenchman was still able to break the 1:45 barrier in the 200m Free in Shanghai, which sets up a fascinating 2012 for Agnel.
48. Tyler Clary
– 2011 Highlight – It should be his silver medal in the 400m IM in Shanghai, but I'm going with his reported 1:54.7 200m Back LC, unrested during a training session.
After the breakthrough year he had in 2010, a silver and bronze from Shanghai represents a good, but not great, last 12 months for Clary. Clary has the misfortune of having the sport's two biggest stars ahead of him in the majority of his races. He and Laszlo Cseh could have some interesting conversations...
47. Leisel Jones
– 2011 Highlight – Her silver medal in the 100m Breast at Worlds (1:06.25)
Losing to Soni by over a second, the re-emergence of Jessica Hardy, and the loss of her textile best time pushes Jones down this list. A move to Michael Bohl in Brisbane might just be the catalyst to push Jones back to her best.
46. Cameron van der Burgh
– 2011 Highlight – Setting a new textile best time in the semi final of the 50m Breast at Worlds (26.90).
He would have been higher up in the rankings had he been able to win the final. His bronze in the 100m Breast gets him on the list ahead of 50m winner Felipe Silva. Van der Burgh can no longer be considered just a speedster after Commonwealth gold in 2010 and bronze medals from the last two World Championships. The South African will be in the mix for medals in London.
45. Naoya Tomita
– 2011 Highlight – His 2:08.25 200m Breast textile best time from Japanese Nationals.
Unfortunately he was nowhere near his best in Shanghai, going out in the semi finals. Still, his one stunning time during 2011 was enough to make it into the top 50. If he can get it right next year, he could cause a huge upset.
44. Ryan Cochrane
– 2011 Highlight – Silver behind Sun Yang in the 1500m Free in Shanghai after staying in touch for 750m.
Cochrane has shown a level of consistency over the last 3 years, to the extent that you can't see him being out of the medals at next year's Olympics.
43. Hannah Miley
– 2011 Highlight – Reaching new heights with her silver medal in the 400m IM in Shanghai.
The stars seem to be aligning for Miley ahead of a home Olympic Games, however the 400m IM is stacked with contenders including the likes of Beisel, Rice, Ye Shiwen, Hosszu, Leverenz, Belmonte etc.
42. Liu Zige
– 2011 Highlight – Setting a new textile best time in the 200m Fly (2:04.40) in an epic race with her compatriot Jiao Liuyang (2:04.44) at Chinese Nationals.
Unfortunately, consistency was once again her downfall as she was only able to manage a bronze medal on home soil at Worlds. 2011 proved once again that Liu Zige is capable of jaw dropping times, but can be hit or miss during major championship finals.
Honourable mentions who just missed the top 50: Kylie Palmer (very difficult to choose between Palmer, Hayden and Belmonte), Kanako Watanabe, Felipe Silva, Jemma Lowe, Stephanie Rice, Ariana Kukors, Caitlin Leverenz, Nathan Adrian, Luca Dotto, Aya Terakawa, Fabien Gilot